Become part of the HealthChain project!  Join Our Info Webinar!
Are you an innovative ecosystem stakeholder? Join us in untapping further investments in digital health innovation and replicate HealthChain model in your region.
Don't miss this chance to make a real impact! Apply by 30th Nov 2023, 17:00 CET.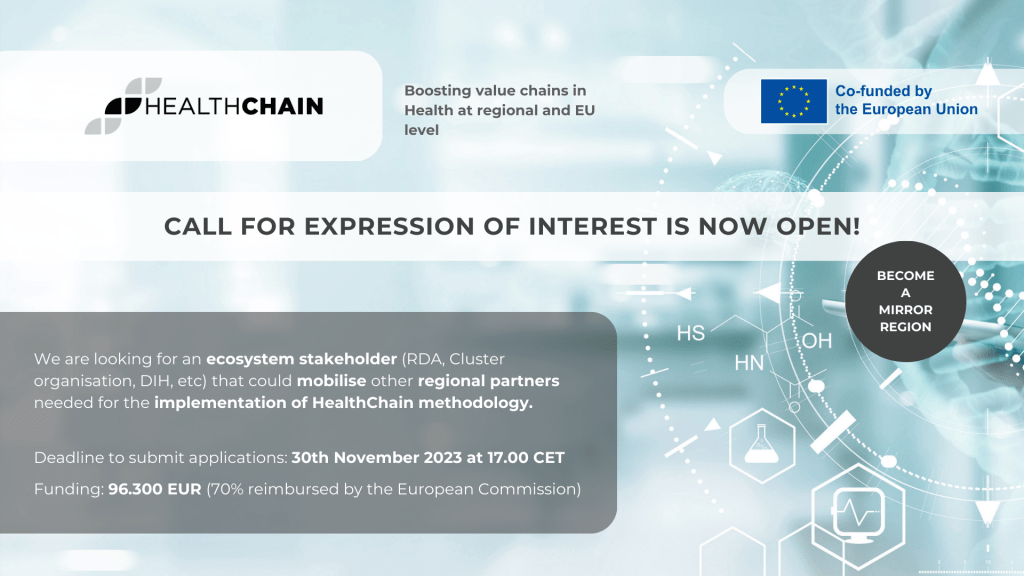 Join the HealthChain Expression of Interest for Mirror Regions info webinar and get to know more about the call and application process:
 When: 25th of October 2023; 11.30 am – 12.30 pm CET 
Where: Online: pre-Register for the webinar HERE
On the webinar you will learn more about: 
Financial backing and comprehensive support awaiting you.

 

Benefits of becoming Mirror Region.

 

Insights into the timeline and upcoming phases of the project.

 

Eligibility criteria and application process.

 
Sing up for this online event here!
If you are an ecosystem stakeholder interested in digital health innovation do not miss this amazing opportunity to become a HealthChain Mirror Region and accelerate your region's digital health innovation journey.  
 Why become a HealthChain Mirror Region?
Interregional Collaboration: Join a European consortium.

 

Implement HealthChain Model: Exchange best practices, and foster innovation.

 

Tailored Solutions: Access innovative solutions for regional unmet needs.

 

Expert Guidance: Receive support throughout implementation.

 

Financial Support: Funding up to 96,300 EUR, 70% reimbursed.

 

Expand Network: Network with other European regions.

 

Regional Innovation: Reinforce your regional innovation ecosystem.

 
Ready to create a wide impact in healthcare?  Express your interest and drive change today! Learn more: https://healthchain-i3.eu/mirror-regions/