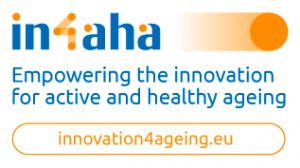 V okviru evropskega projekta IN-4-AHA (Innovation Networks for Scaling Active and Healthy Ageing), v katerega je SIS EGIZ vključen kot konzorcijski partner, vas vabimo k udeležbi na delavnico z naslovom "Connected networks for AHA: a better way to cooperate and innovate?"
KDAJ:
Delavnica bo potekala dne 30. 04. 2021 od 15:00 do 16:00 (CET).
KJE:
Delavnica bo potekala preko spleta, udeležba je brezplačna. Registrirate se lahko cjsantos@reit.up.pt. 
CILJNA PUBLIKA in TEMA DELAVNICE:
Spletna delavnica je namenjena razpravi o trenutnih prizadevanjih v povezovalnih omrežjih v  Evropi, katerih cilj je povečati uvajanje inovacij na področju zdravega in aktivnega staranja, hkrati pa razmisliti tudi o njihovih glavnih težavah in vrzelih. Na delavnici bo omogočena tudi razprava med udeleženci. Namen delavnice je razumeti kakšne so politične, institucionalne, lokalne ali regionalne omejitve na omenjenem področju.
AGENDA: 
15:00 – 15:05

 Welcome
 Cláudio Santos, Porto4Ageing (University of Porto)

15:05 – 15:35

 Innovation networks and current situation
 TBA
 Nicola Filizola, Communication and Public Affairs Manager at AAL   Association.
 Bettina Glaser, Steering Committee member of JPI More Years, Better Lives.

15:35 – 15:45

 A word on the future of AHA in EUrope
 TBA, Representative/Policy Officer from the EC                                       

15:45 – 16:00

 Discussion and Q&A

Delavnico bo moderiral Elisio Costa, Porto4Ageing (University of Porto)